Casablanca Ceiling Fan Parts – Replacement Parts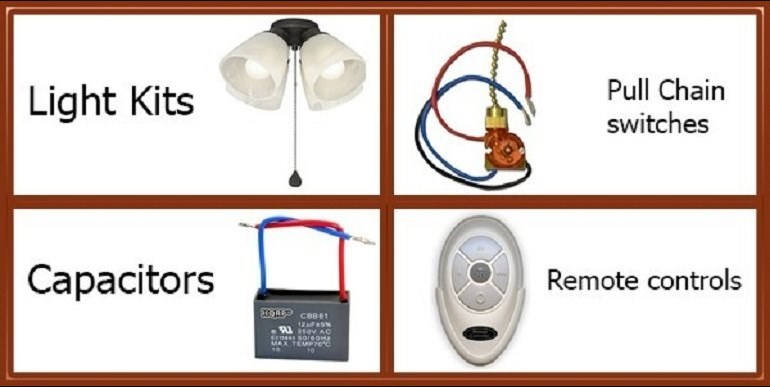 Casablanca Ceiling Fan Parts – Replacement Parts
Getting a replacement part for your Casablanca ceiling fan is not a hard nut to crack. We shall try our best to get you the desired part you want to search. In order to find Casablanca ceiling fan part, you need to know the item/part number of that item. If you have the documents or manuals which come with the fan then try to find the part list there.
Another way to get a part is to contact the customer support of Hunter fan company. It is due to the fact that Hunter owns Casablanca company. Contact them to get the replacement of your broken or damaged part such as remote.
Before making a conversation about Casablanca ceiling fan parts online, you need to know about the model of the fan. It is an ideal thing to know the model number of your fan. Casablanca fan parts are also available on Amazon and Homedepot.
Get Casablanca Ceiling Fan Parts Here
Common Casablanca Replacement Parts
Light Kits – Low profile light kits
Ceiling fan blades – warped blades, bent blades
Casablanca ceiling fan remotes – Handheld and universal
Wall Controls
Motor replacement
Downrods
Globes and Shades
Capacitors
Mounting hardware
Picking the right fan for the home décor is not an easy task. In addition, you were not familiar with customization until Casablanca ceiling fan Company entered the market. The brand not only provides solution to the problems of its customers but also bring the ideas to life.
How to Customize Casablanca Ceiling Fan using Casablanca Parts
You need replacement parts to customize your ceiling fan. Casablanca ceiling fans make it possible in four steps, go through them.
Step 1: Select a Location
You can create a fan for three locations that is, inside, outside and outside/inside. It depends on your needs. The inside means the interior areas such as bedroom, den, kitchen, living room etc. The outside stands for areas such as Gazebo, porch, verandah which can be exposed to rain directly. Lastly, inside/outside locations which are known as covered areas exposed to moisture but not to the rain and sun.
Step 2: Choosing the Casablanca Motor
After choosing the location, you can select the motor from a wide range of motors for your Casablanca fan. The brand offers about seventeen designs of motors to use inside. In addition, they are all energy star rated and contain a 4-speed pull chain, universal wall control with optional remotes. They also have finishes such as Antique brass, Aged Bronze, Brushed Cocoa, Snow/Cottage white, Brushed Nickel etc.
The motors available for inside/outside areas are similar to those which are used in indoor. Casablanca offers six designs variants. Those are energy certified and damp rated with universal wall mount control, 4-speed pull chains and optional remotes.
Outdoor motors are energy star and wet rated with a 4-speed pull chain. Additionally, they are available in Maiden Bronze, Aged Bronze and Cottage White finishes.
Step 3: Choosing Casablanca Fan Blades
After selecting the motors, the next thing to select is fan blades. It depends on the selection of the type of motor and finish. Casablanca gives you recommendations on blades that will suit your designs and style. Blades in other colors are available as additional options.
The design of Outdoor ceiling fan blades is Espresso, Plantation Wicker and Halifax, in Distressed Mahogany, Black and Cocoa Mahogany finish. The rest of the styles are Cottage white and Snow White. These blades have the ability to cover a sweep of 52-54 inches or 58-60 inches depends on the design.
Inside/outside areas have fan blades of Walnut Carved Wood, Blackened Pecan Carved Wood blades. They have the ability to cover 52-54 inches, 54-56 inches and 58-60 inches locations.
Indoor blades are replete with the largest collection. Additionally, it has designs including River Timber, Mountain Timber, Burnt Walnut with the same sweep as for outdoor ones.
Step 4: Picking the Casablanca Light Kit
It depends on your choice, the fans are available with or without light kits feature. The lamp variants are CFL low profile, Incandescent Low profile, Bowl, Four lights and LED bowl. In addition, you also get to pick the finish or color of the glass shades for these lamps to complement the design of Casablanca fan.
Step 5: Selecting Casablanca Accessories
The brand of Casablanca has accessories including sloped ceiling adapters, extension down-rods, remote control for customized fan. The downrods can be used for ceiling higher than 9 feet. In addition, they can be configured in different lengths according to the actual height of the ceiling. Sloped ceiling adapters are built to support the fan from an angled ceiling that is, between 32-56 degrees. The handheld transmitter plus receiver of Casablanca allows you to convert any pull chain fan into a remote controlled one. It also gives you features like full range light dimming, four speed settings and safe exit.
Related Read: Hunter Ceiling Fan Replacement Parts
After completing the customization of Casablanca ceiling fan parts, the order can be sent to Casablanca fan. Each custom made fan gets a 120 days industry leading in home service warranty. Additionally, one year warranty on Casablanca replacement parts and electronics and a lifelong warranty on the motor as well.